Experts and leaders of federal agencies shared their insights on the biggest climate, energy, and environmental priorities for the coming year at a recent event hosted by Resources for the Future.
This week, Resources for the Future (RFF) hosted a panel of experts for "Big Decisions 2023," an event that centered a timely discussion of the biggest climate, energy, and environmental priorities for the coming year. Leaders in the fields of research, government, and journalism shared their thoughts on the forces that may shape energy and the environment in 2023. To recap the event, we've selected some of the most memorable insights.
Implementing Recent Legislation
Among the most important developments that will continue to unfold in 2023 is the implementation of the Infrastructure Investment and Jobs Act of 2021 and the Inflation Reduction Act of 2022. Together, these laws earmark around $900 billion in funding for clean energy and infrastructure, which includes investments in electricity transmission, public transit, and manufacturing. Federal agencies, such as the US Department of Energy (DOE) and the US Environmental Protection Agency (EPA), have been tasked with implementing many of the provisions in both pieces of legislation.
Over one-third of the funding is designated for climate change mitigation and adaptation. Implementation includes funding new research, launching government programs, testing technologies, awarding tax credits, and ensuring equity for environmental justice communities.
Janet McCabe, US Environmental Protection Agency: "The influx of funds allows us to expand our own grantmaking and infrastructure work in ways that EPA has not been able to do before."
Kathleen Hogan, US Department of Energy: "You can't make something happen when people aren't aware of what it is and the pros and cons. You've got to engage the community and get in the conversation about the pathways in front of that community. Creating the environment where you can work through these things is part of the process."
Decarbonizing the Economy: First Things First
An imperfect measure measures things imperfectly. Accurate and standardized emissions-tracking systems enable firms and government agencies to participate in local, state, national, and international carbon markets and track progress toward decarbonization goals. A net-zero economy depends on counting both emitted and captured carbon.
Janet McCabe, US Environmental Protection Agency: "The first place you start when trying to reduce emissions is making sure they're measured and reported in a transparent way."
Richard G. Newell, Resources for the Future: "The world of emissions accounting has become so critical for many policies, tax incentives, corporate policies, corporate actions around environment, and investor interest."
Considerations for Applying Federal Funding Now and Later
Further negotiation in Congress, along with the development and expansion of federal agency programs, such as the Regional Clean Hydrogen Hubs at the US Department of Energy, remain before the bulk of the funding in recent legislation can go toward tangible projects.
Kathleen Hogan, United States Department of Energy: "At the Department of Energy, we are all in on implementing these bills."
Homer Wilkes, United States Department of Agriculture: "We have three major goals: advancing climate equity, mitigating climate change, and improving climate resilience."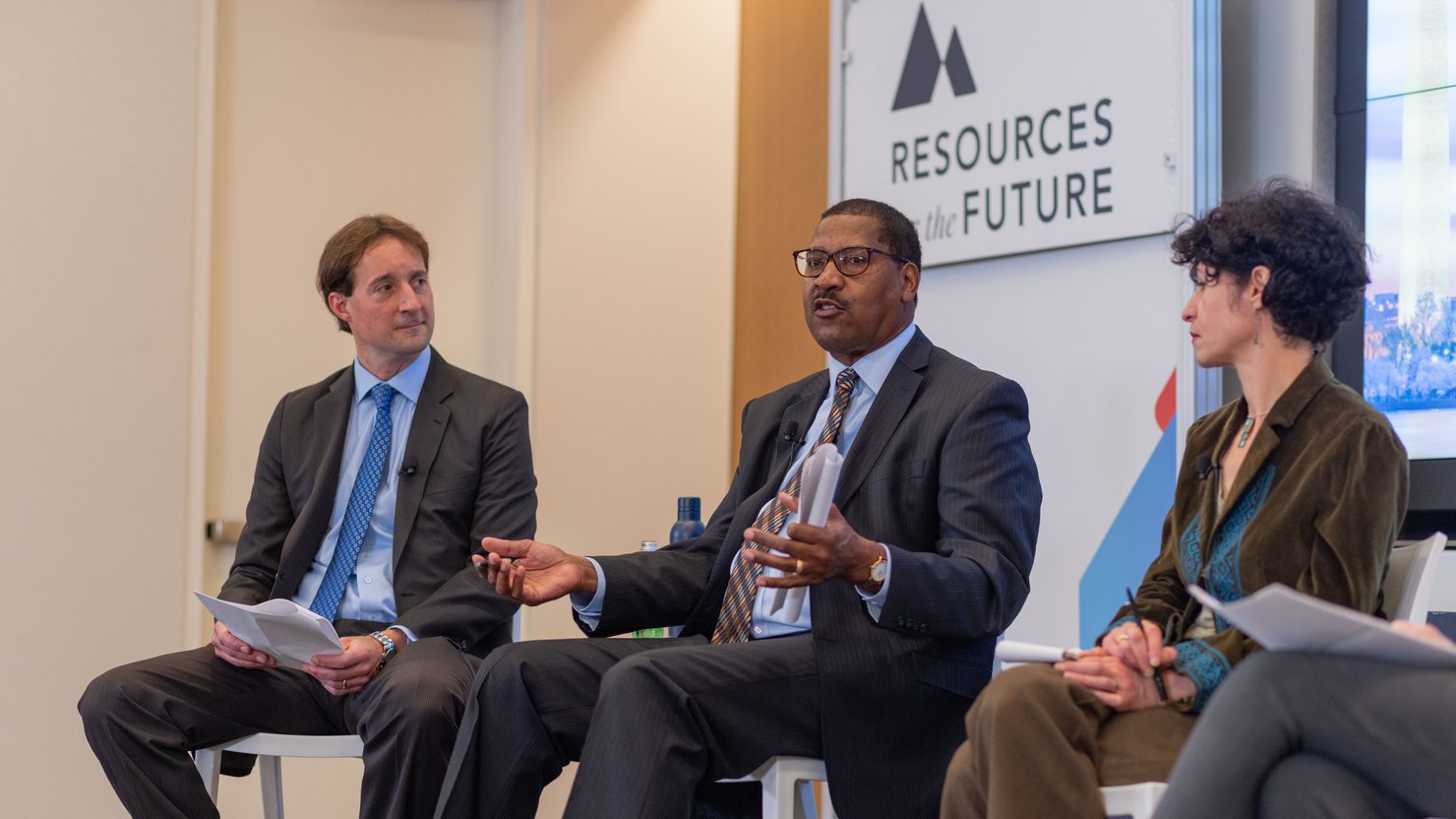 Juliet Eilperin, Washington Post: "There is some room for bipartisan solutions, but will both sides be willing to make trade-offs? What level of fossil fuel permitting will you allow, in order to streamline some of the green energy projects that we need to meet our goals on climate?"
Kathleen Hogan, United States Department of Energy, on the US Department of Energy funding hydrogen hubs: "This isn't to buy down tech risk—we're looking to build a sustainable business ecosystem that can continue to grow out and expand."
Jason Grumet, Bipartisan Policy Center: "We have to think fundamentally about what it means to transition to clean energy … Federal employees want to make everything perfect … but there needs to be some recognition and humility about the need to push some stuff out the door."